Air-freight is a new transporting method but containing many remarkable advantages in term of speed and safety. Below are 4 cautions need to be aware when doing air-freight delivery: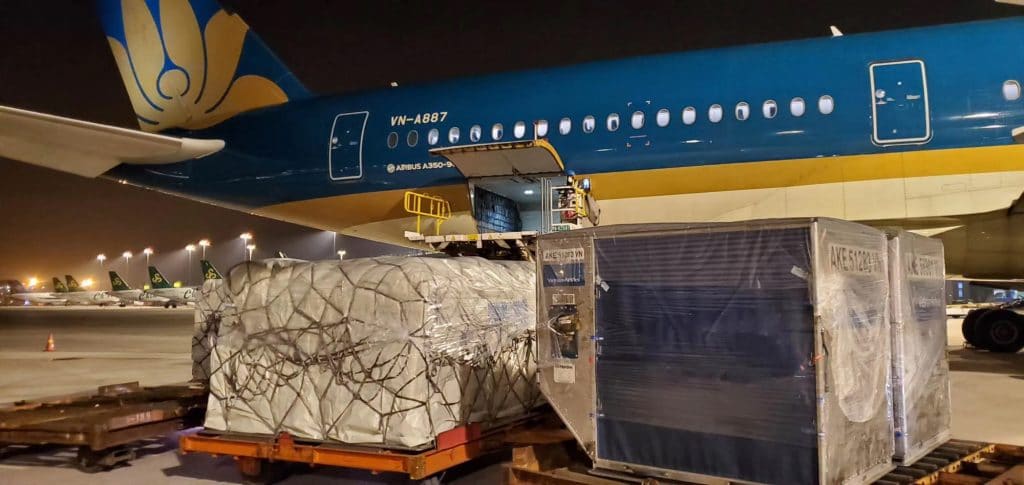 The goods must have related documents –  Cautions in air-freight: Goods transportation from China to Vietnam by air has many laws that force involved parties to obey exactly according to goods'  regulations. Thereby when transporting goods you need to be able to prove the origin of the goods, sufficient stamps and receipts and legal dossier of documents.
Cautions to the weight of consignments – Cautions in air-freight: Air-freight has transparent regulations on weight of goods and weight allowance. Air-freight brings many remarkable advantages in term of speed and safety. Air-freight accepts low and medium level of goods' weight, if you transport in high level of weight you need to use road or seaway method of transportation.
Consignment need packaging according to the regulations – Cautions in air-freight: With goods transported by air you need to conduct the packaging procedures accurately following the regulations. F&B goods need packaging in wood boxes, fresh goods need refrigerated packaging and enclosed with ices (could be dry ices, wet ices or liquiefied gas). The whole packaging process needs to comply with the regulations. Caution: F&B goods must not be delivered with poisonous goods, which may create food poison and do harm to consumers.
Write the recipient's addresses carefully and clearly: Because air-freight method is often applied to several types of goods which is needed to be delivered fast or high value. Therefore, when filling the recipients' addresses, you should review carefully to avoid the situation that your consignment is sent back to you due to unidentified address, which does damage to your business.
——–
HATECO LOGISTICS JSC
Logistics – Warehousing – Distribution – Freight Forwarding
Add: Sai Dong Industrial Zone;
Huynh Tan Phat St; Thach Ban Ward; Long Bien District;
Hanoi; Vietnam
Tel:  +84.024.3259.5272/ Fax: +84.024.3259.5365