ICD Long Bien officially came into operation in 2020, is the extended arm of seaports, airports, border gates, roads to major economic hubs in the North, helping enterprises to reduce customs clearance time and quickly complete all import and export clearance procedures, deliver goods safely, save cost and time.
Advantages in port location and comprehensive service package ensure to fulfill perfectly transportation needs of shipping lines, 2PL/ 3PL freight forwarding companies, import-export companies, and trading service companies,…
Area: 12ha (120,000sqm)

Port code: VNILB

Customs clearance capacity: 135,000 TEU / year

Operation: 24/7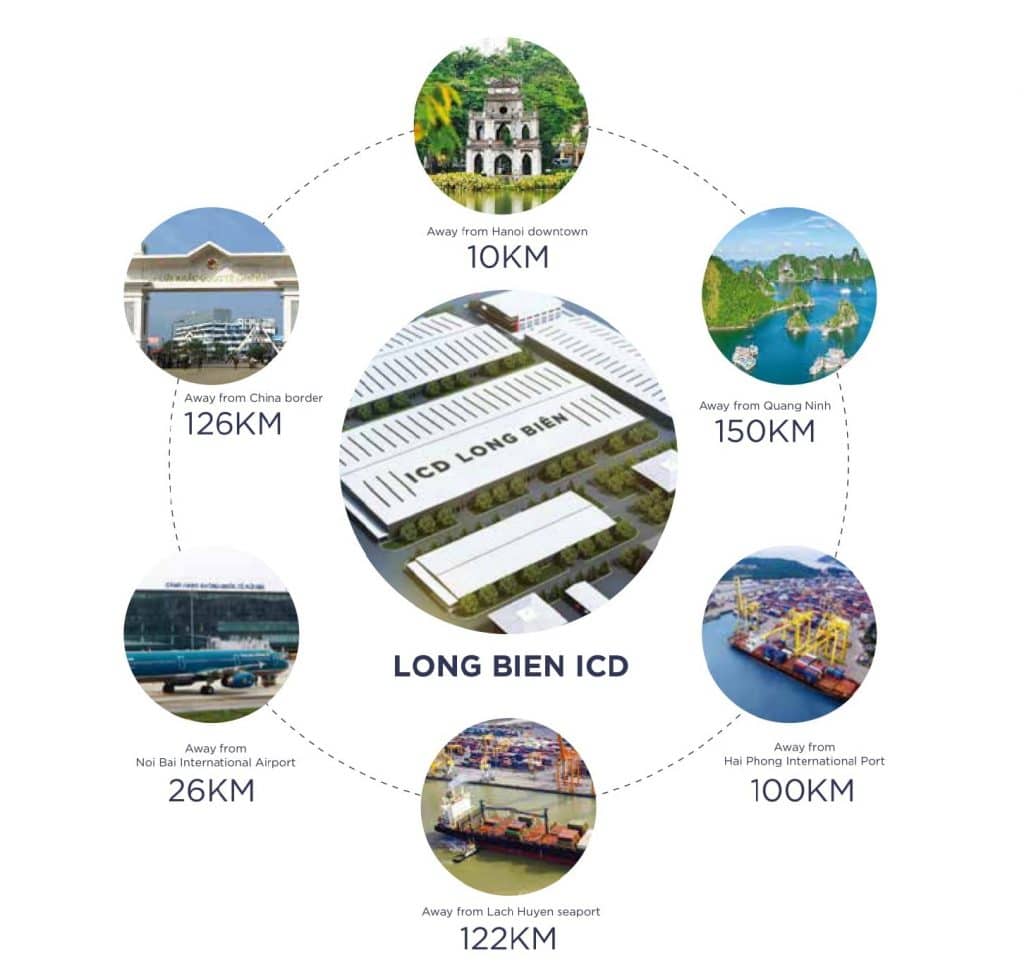 TYPES OF SERVICES AT ICD LONG BIEN
Forwarding at destination port: Long Bien ICD is recognized by the Ministry of Finance as an authorized domestic location to carry out customs clearance for imported and exported goods, provide forwarding services for destination ports. When goods arrived at the seaport / airport, transferred directly to ICD Long Bien to do customs clearance to save time, and Bill of lading should clearly states: Final Delivery / Place of Delivery is ICD Long Bien.
Store and distribute container covers: Transfer containers from seaport to ICD Long Bien, receive, classify, clean containers after customers return empty containers to ICD, repair containers (if any), store and transfer empty containers from ICD to when requested by shipping lines.
Load, unload containers of import and export goods at container yards: Import and export goods are load, unloaded at the yard and transferred to trucks at the shipper's request.
Transfers of bulk cargos, Less than container load (LCL), Full container load (FCL): Load and unload containers at the carrier's request: Unload containers on foreign transportation vehicles (GMS trucks, Chinese trucks, etc.) when arriving at ICD Long Bien and store at the transshipment area in ICD for a certain time period. Load containers onto foreign transportation vehicles (GMS trucks, Chinese trucks, etc.) to transport to territory outside of Vietnam.
Keep and store refferred containers: When customers return refferred containers, Hateco Logistics' refrigeration team will conduct inspections and store containers at refferred zones. For refferred containers, before packing, the refrigeration team will set the temperature, ventilation and humidity level as requested in the booking.
Packing, splitting and labeling import and export goods: Import and export goods are splitted, packed and labeled by Hateco Logistics at the owner's request.
Customs inspection support: When Customs officer inspects the shipment, Hateco Logistics provides inspection support services including lift off containers for cargo inspection, seal remove, forklifts for inspection, sampling, and new seal plier.
Imported and domestic car yard: Hateco Logistics has 2 car parks with a capacity of more than 800 imported vehicles & domestic vehicles. We provide safe vehicle storage and satisfy a wide range of customer services requirements.